The luxury brand Autograph Collection by Marriott offers distinctive hotel experiences designed to leave a lasting impression. Aimed at the high-end segment of extraordinary hospitality experiences, the Autograph Collection includes over 200 independent hotels worldwide with exclusive benefits. Apex Alliance, who own and operate 4 hotels in Bucharest, decided to convert the spectacular premises into this 5-star hotel and officially opened the Marmorosch in August 2021.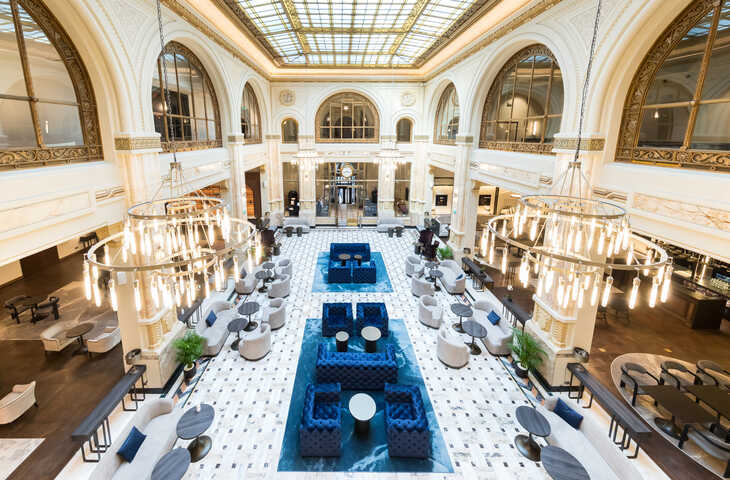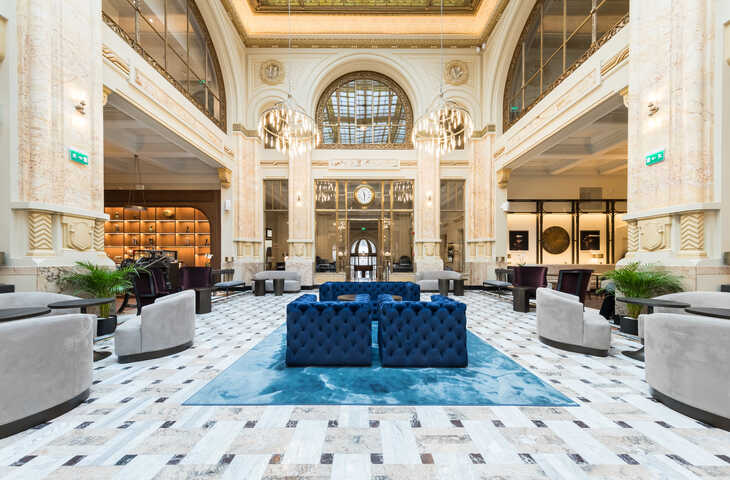 A thrilling interior design
The hotel is located in the former Marmorosch-Blank Bank palace in Bucharest's Old Town, close to Romania's National Bank palace. The building's transformation into a hotel involved a 42 million euro investment and 3 years of continuous work to reawaken its Art Deco and Art Nouveau heritage. Naturally, the rich architecture reflects in the interior design concept that tells the story of the era's progressive ideas while evoking a thrilling sense of historical importance and optimism. The Marmorosch includes 217 rooms from standard category to suites.
Glamorous variety with harmony
For the Carpet&More team, the Marmorosch was the 5th hospitality project to be realised with Apex Alliance. Led by the costumer's architects and designers the entire team committed to create a glamorous environment to fit the building's history, architecture and reputation. More specifically, the creative brief revolved around creating a luxurious atmosphere throughout the building while ensuring a high degree of harmonious variety between all spaces.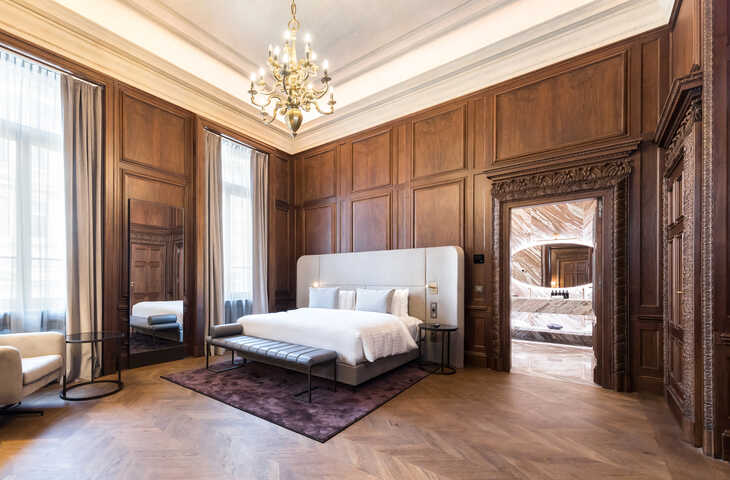 The starting point for the bespoke carpet patterns was a marble theme inspired by the dramatic look of this precious material, an exquisite work of art created by nature, to be found in palaces and castles around the world. Considering the gradient complexity of marble patterns, the wish was to transfer the visual impact and similarity of a genuine marble slab into bespoke carpet patterns. Other spaces such as rooms and corridors were fitted with carpet in rich and sated unicolours.
Carpet is synonymous with comfort. We specified carpet for the atmosphere it creates and to meet the demand for versatility in relation to spaces and moods – Andreea Orhei Sorescu, Carpet&More.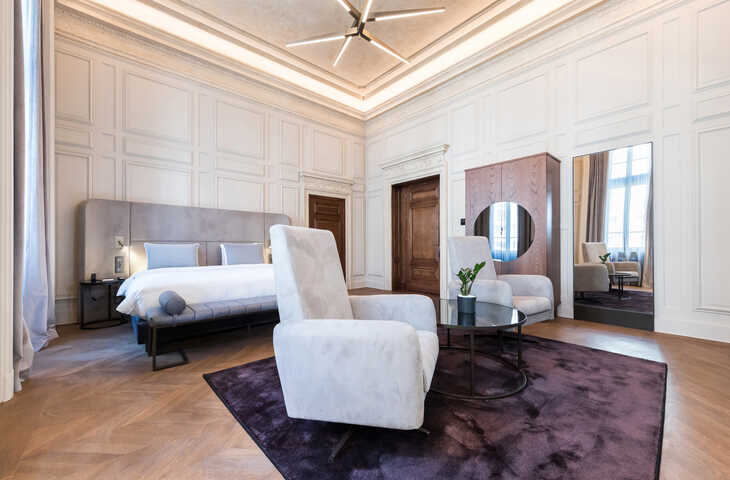 Noise dampening beauty
Fully aware that acoustics have a major impact on the hotel atmosphere, effective noise dampening materials were considered important to the interior design. For example, the large public spaces such as the reception areas, lounges and meeting rooms needed significant noise dampening due to the hard surfaces and high ceilings. To help meet this challenge and for visual reasons as well, natural wood panels were fitted into several public spaces in combination with large rugs, to define specific areas, for instance lounges, while bringing a pleasant atmosphere.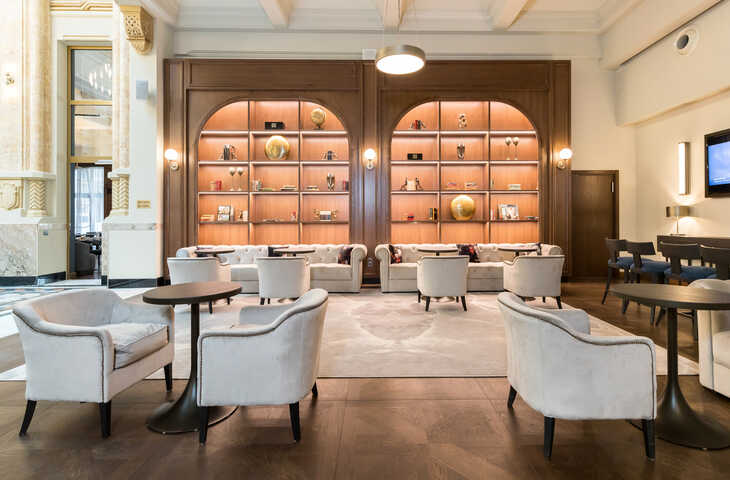 Due to its specific and more personal use, the hallway and room architecture demanded a more delicate yet effective approach to raise comfort and improve acoustics, which made plush carpet the natural choice. Bottle green and aubergine tones add a calm yet warm look and feel to these specific spaces.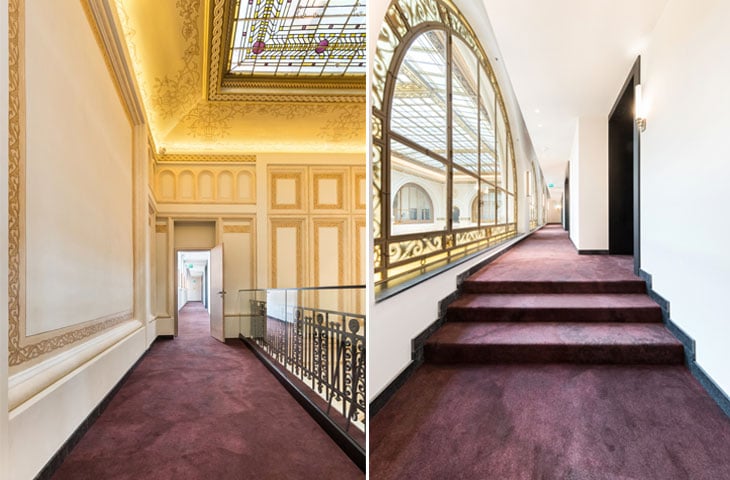 Exactly like nothing else
The creative team aimed at combining a natural flow of colours from room to room with the perfect blend of materials. The wall-to-wall carpets and many generously sized rugs perfectly match the interior and help to meet this objective. The carpets are useful and comfortable contributors to the atmosphere and some of them act as individual pieces of art.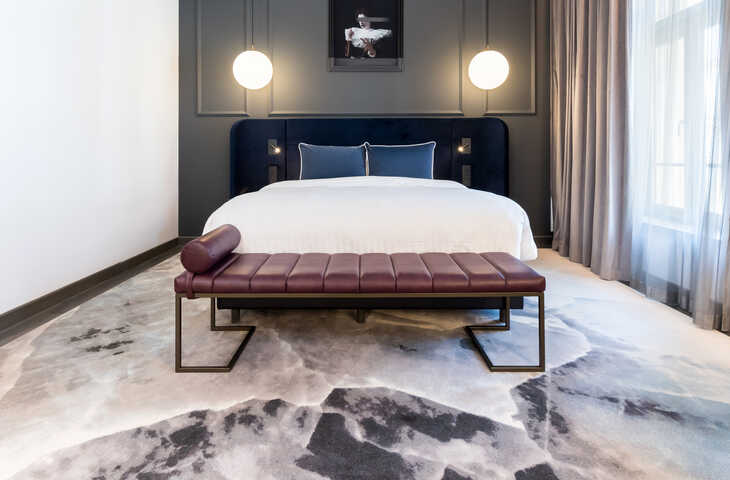 Right after Carpet&More finished working on site, they were asked to start exploring the 6th project for Apex Alliance indicating that the expectations for the Marmorosch were at least accomplished, if not exceeded.
Want to create your own bespoke luxury?
This 5-star hospitality project features our exquisite 80/20 wool/nylon quality from the Highline concept with complete freedom of design. Click to explore your bespoke design options and learn how to create your very own work of art carpets. We gladly support you throughout the entire process, so feel free to reach out to your local consultant at any time.
For more information, samples and catalogues please click below:
https://www.egecarpets.com/catalogues-and-sample-folders
https://blog.egecarpets.com/explore/marmorosch
Summary
Article Name
THE MARMOROSCH: A premium Marriott Hotel shrouded in smooth perfection
Description
precious material, an exquisite work of art created by nature, to be found in palaces and castles around the world.
Floorinsite.com
Publisher Logo