With the recent move from the Wissoll campus to Düsseldorf Airport, a new and innovative office concept was required to meet the modern needs of TREI Real Estate GmbH.
To handle everything from property selection to relocation management, TREI partnered with pro m2 to benefit from the broad range of services they offered.
I talked to Sylvia Sauerwald, head of the department of architecture at pro m2 to clarify exactly how the 2,200 m2 new office space turned into 106 workstations that meet the individual needs of the users.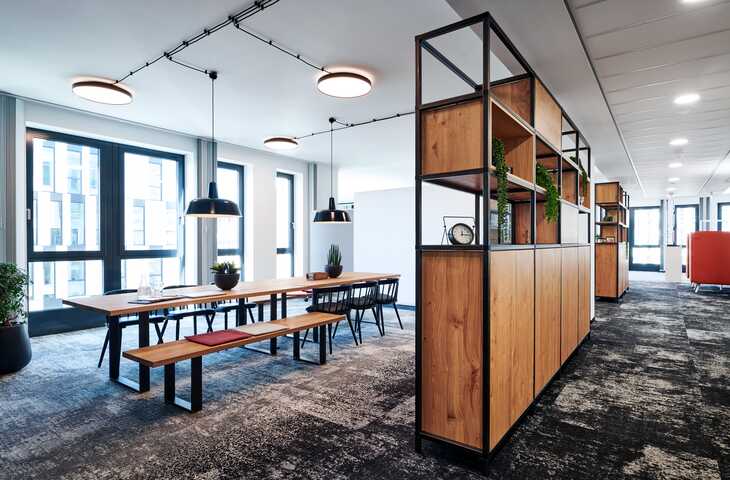 Q: What were the challenges to be solved?
A: TREI wanted the charm of their previous location in an old, historical and former Wissoll chocolate factory to be perceptible in the new office space while creating a completely new working environment including an open office structure with different areas designed to optimise the output of joint meetings and individual, focused work.
Q: What did the Construction collection add to the concept?
A: Through joint workshops it was clarified that the new office concept aimed for a modern working atmosphere and subsequently, important criteria and design requirements were developed for the entire team to use as guiding principles. Agreeing on the office type "Activity based working", pro m2 and TREI decided on an industrial yet homely visual frame to kick off the more detailed work.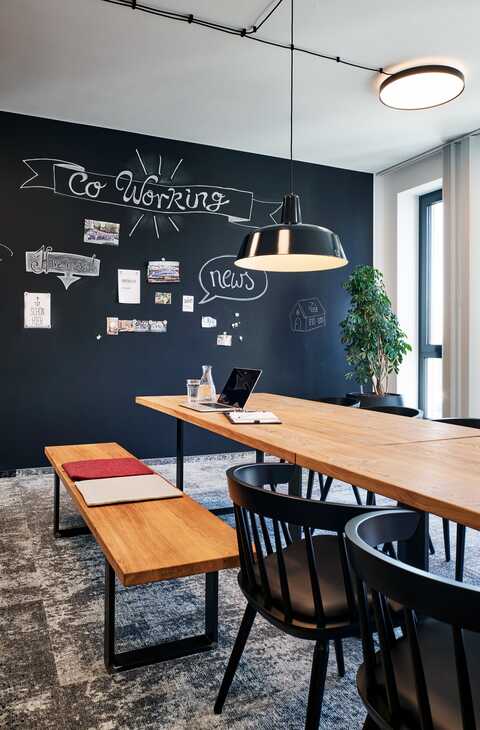 Regarding the specific interior decoration, materials such as steel and reclaimed wood were combined to create the perfect sweet spot between cold vs warm and industrial vs natural ambiences. To add a subdued yet noticeable homely look and feel, the ReForm Construction carpet collection was fitted onto the floor as the interior detail rounding off the entire concept. The somewhat rough concrete pattern was specified in warm colours and through its plush texture, the carpet managed to merge several important requirements of the project such as homely comfort, warmth and improved acoustics.
Q: Noise! How did you battle this open office space problem?
A: Obviously, the challenge of an open floor plan is bad acoustics and therefore it's crucial to specify acoustically dampening materials to create a pleasant indoor climate. The reverberation time of the rooms was optimised to ensure a calm atmosphere ideal for focused work.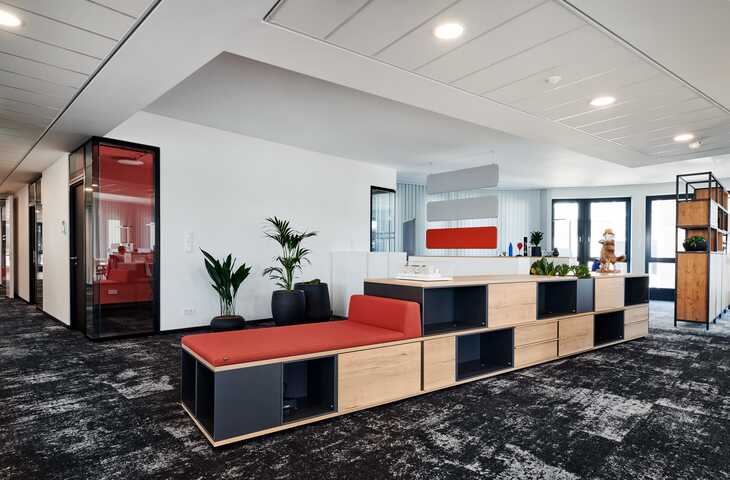 We were able to guarantee this thanks to the high acoustic dampening effect of the carpet. Suspended acoustic panels support the dampening while creating effective zoning of the individual workspaces. Half-open/half-closed shelves made of steel and reclaimed wood add further zoning effects and last but not least: a cosy and homely character. Our use of glass-acoustic elements additionally shields areas for focused work.
We were able to guarantee a calm office atmosphere thanks to the high acoustic effects of the carpet – Sylvia Sauerwald, pro m2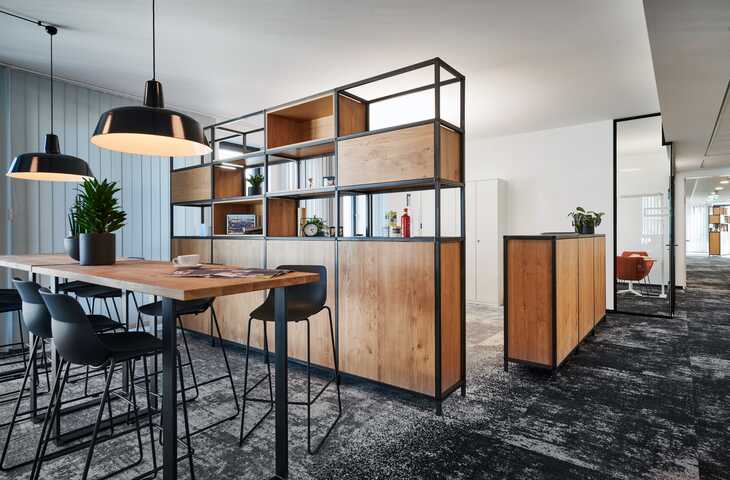 Q: What were the benefits of collaborating with Ege Carpets?
A: The combination of endless design options, high quality products, professional advice and acoustic properties convinced us and the customer to work with Ege Carpets. The concrete look of the specified ReForm Construction design matched the industrial storyline perfectly. This collection's unique colour transition feature enabled us to change from light to dark throughout the floor surface and we exploited this design option fully by creating zoning and routing through the floor design. Furthermore, we used the light tones to help create a friendly atmosphere in the quiet work areas whereas more active areas and paths for walking were signalled by dark tones.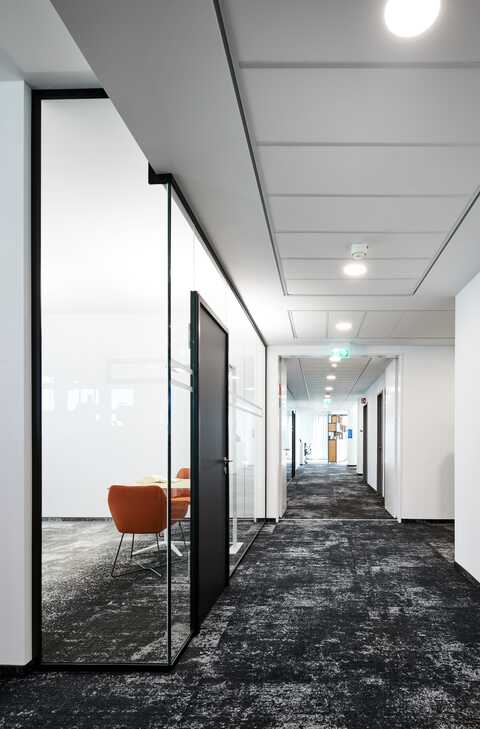 Q: Which detail do you love the most?
A: The carpet's dark concrete colour is a perfect component of the more extroverted and bolder look of the meeting rooms. Each room has its own colour code and thereby a unique character. Walls and ceilings were coloured alike to match the fabric colours of the chairs. The "Club Lounge" is another favourite room that features comfortable armchairs by the fireplace and acts as a very special place for deeper conversations and important decision making. The golden wall with light art pieces gives the room a noble touch.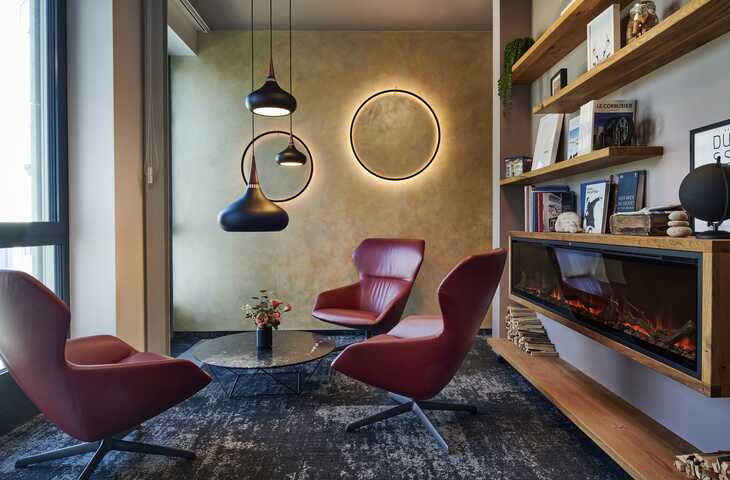 Q: How is the interior design perceived by office users and guests?
A: An intensive customer cooperation is very important to create the perfect, individual office solution to our customers. Due to our extensive homework and ongoing customer alignment, the new TREI office was and still is very well received by employees and visitors. The new "Activity based working" office space was developed and decided upon before the outbreak of the pandemic. Today, due to the large extent of remote work, this is one of the most frequently implemented room types in new offices. Therefore, the TREI project is a popular destination for our new customers to visit and feel inspired by.
The ReForm Construction carpet collection appealed to us immediately and rounded off the entire concept perfectly – Sylvia Sauerwald, pro m2
Want to learn more about Construction?
With the multidimensional Iron and Concrete patterns, ReForm Construction is a soft interpretation of two important building materials in modern architecture. By bringing the hard, industrial and rather cold materials to a more refined level, Construction adds well-being, comfort and improved acoustics to the fundamentally raw expressions. An additional design detail consists of the two-tone 96×96 cm Mix tile, which can be used to create beautifully fluid colour transitions. Click to see more images or explore the collection further.
Waste isn't waste until it's wasted
ReForm Construction is made from eco-responsible materials and bearing the Cradle to Cradle Bronze and Indoor Air Comfort Gold certifications, it's a more sustainable choice for any flooring project.
We turn used plastic bottles into our Ecotrust felt backing consisting of a soft, yet strong PET felt material that's long lasting and has great acoustic performance. All carpet tiles and planks come with this unique, patented backing. Abandoned fishing nets and other industrial waste are used for yarn that comprises many of our carpet constructions. Fishing nets account for one tenth of waste in the ocean, drifting for months and posing a threat to sea life. Once collected, the fishing nets are cleaned, broken down and reborn as strong, hardwearing yarn that is both regenerated and regenerable.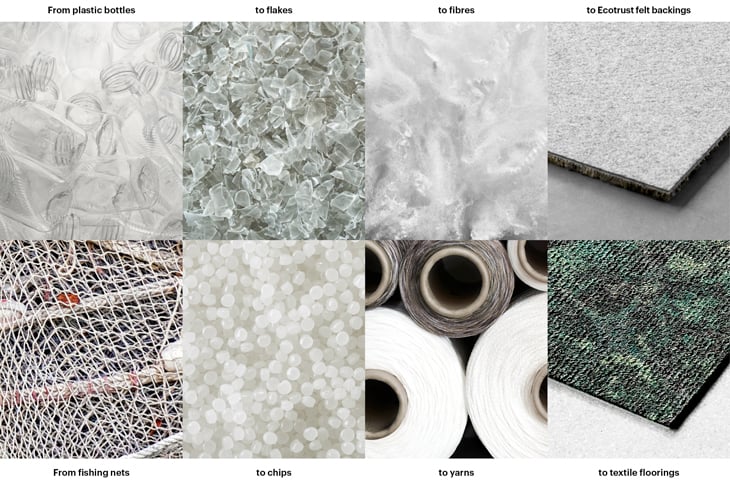 We challenge industry standards and rethink how aesthetics, quality and sustainability can be combined. Follow The Green Thread and read more about our sustainable ambitions and achievements.
Feel inspired too? Order your free brochure or carpet samples now!
 Click to order your very own ReForm Construction samples or brochure right away.