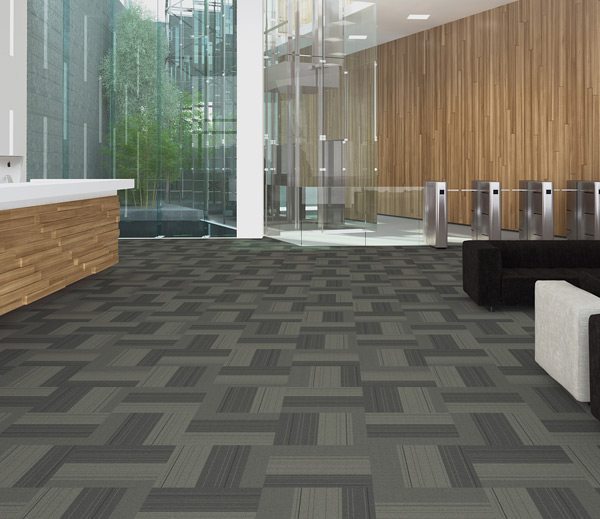 Driven to Abstraction with Antron® carpet fibre
Antron® Lumena™ fibre is the core component in Abstraction carpet tiles from Quadrant Carpets, combining bold aesthetics with exceptional performance to provide the ideal flooring solution for a variety of demanding commercial locations.
Featuring within the just-launched Coordinate Series 2 collection by Quadrant Carpets, Abstraction tiles have found the ideal ingredient in Antron® Lumena™ fibre. Hardwearing and offering inherent stain resistance, colourfastness and outstanding soil resistance, Antron® Lumena™ solution-dyed nylon fibre ensures that Abstraction tiles offer the resilient performance levels needed by busy environments.
The colour retention and clarity offered by Antron® Lumena™ fibre ensures that Abstraction tiles will withstand high-impact use without any compromise on style. Encompassing nine striking colourways all with subtle contrasting accent stripes, including jet black Rebus, stylish charcoal Covenant and warm green-beige Eve, Abstraction tiles can be laid in either horizontal ashlar, vertical ashlar or in a quarter-turn formation, with each creating a mesmerising pattern repeat upon the floor surface. Design possibilities are numerous, with the extensive solution-dyed colour bank of Antron® Lumena fibre making it possible for specifiers and designers to commission bespoke Abstraction tiles for a distinctive look to suit specific projects.
"Abstraction tiles have an almost hypnotic effect that is truly captivating, "explains James Scully, design-director of Quadrant Carpets, "and this is certainly facilitated by the colours of Antron® Lumena™ carpet fibre. The inclusion of this durable yarn in Abstraction means that designers and specifiers have access to a product that is not only incredibly functional and robust, but that also delivers a unique and edgy look that will suit commercial environments. The striking geometric patterns that can be created encourages exploration of the relationship between blocks and lines, and the refined colour variations within each tile allow for great coordination with other interior design features."
Easy to maintain, Antron® Lumena™ fibre allows for rigorous cleaning of Abstraction tiles. Designed and manufactured in the UK, all designs within the Coordinate Series 2 collection are BREEAM A-rated and Ska approved and can be repurposed, reused or recycled at the end of their first life.
For further information, contact INVISTA's Antron® carpet fibre on 0845 450 6434 or email [email protected]