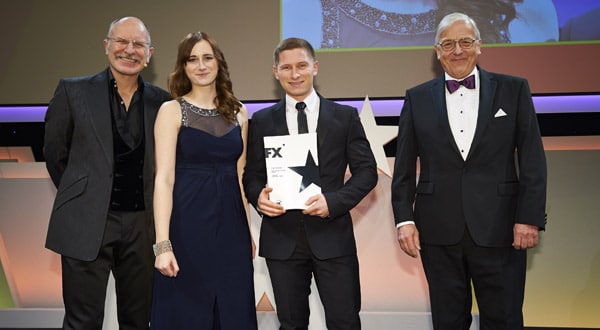 Kährs new Chevron Collection has received the 'Best Flooring' award in the prestigious FX International Interior Design Awards 2016.
The awards recognize the very best interior products and projects from around the world.
Kährs' beat off stiff competition from eight other short-listed manufacturers to win the award with Chevron; a new patterned parquet wood floor design, with contemporary colour and surface finishes, and an innovative plank construction.
Crafted from sustainable oak, Kährs Chevron Collection includes a warm white, weathered grey, classic brown and dark brown design.
A bevelled edge emphasizes the retro-style zig-zag pattern and a tactile brushed surface, with a nature oil pre-finish, reinforces the natural look.
Whilst traditional chevron floors comprise individual parquet strips, Kährs Chevron has a modern engineered plank construction.
The floors' design features 19 angled strips along the board's 1848mm length, with angled ends. Alternate right and left-handed boards join to create the continuous zigzag pattern, which can be finished with matching frameboards.
The 'ready-made' parquet design cuts installation time and costs by up to 50%, compared to traditional parquet.
Other recent Kährs awards include 'Hardwood Flooring Product of the Year' in the CFJ/CFA Flooring Industry Awards 2016; Interiors Monthly's 'Best Solid/Engineered Wood Manufacturer' 2016 and Gold Award for 'Best Flooring' in the House Beautiful Awards 2014.
For more information, please contact Kährs (UK) Ltd on tel. 023 9245 3045, email [email protected] or visit www.kahrs.com.