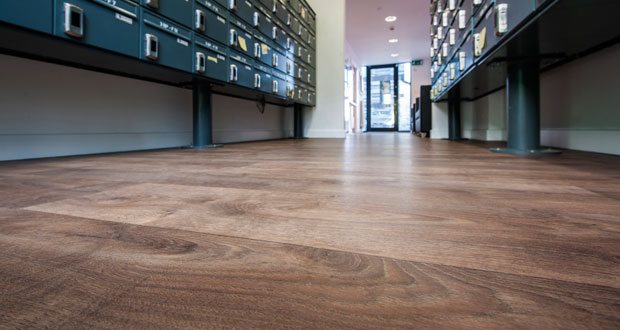 New student accommodation for Edinburgh Napier University has been equipped with a range of high performance flooring from Itec Contract Floors.
The Bainfield accommodation site, within the Fountainbridge area of the city, contains seven blocks of flats, with a total of 778 en-suite rooms accompanied by 117 kitchen and living areas. Over 20,000m2 of Itec flooring has been installed covering the accommodation, corridors and communal areas, selected parts of the student centre, within the laundry and areas of the management suite.
For the student accommodation, including the en-suite bedrooms, living areas and communal spaces, specifying architect Allan Murray Architects Ltd, turned to the sound-deadening qualities of the Axento collection that reduces sound by 18dB without the need for specialist acoustic underlays. Using the natural wood décor of Aspin Allan Murray Architects were able to meet the technical and practical needs of Edinburgh Napier University, while still delivering a pleasant home-like atmosphere for students within the accommodation. With Hyperguard+, Axento Aspin is incredibly easy to maintain and resists scuffing, ideal for demanding use.
Allan Murray Architects also specified the use of the Invisiweld joint over the traditional hot-welding technique. Leaving a virtually imperceptible join, not only does Invisiweld help the wood décor of Aspin to look more realistic, fitting well with the aesthetic requirements of the accommodation, it also provides a stronger joint that is completely watertight and faster and easier to achieve.  A total of 16,000m2 of Axento Aspin 737 were installed with Invisiweld. Ensuring continuity of feel within the Student Centre, another wood décor from the Axento collection in the dark wood of Calais 639 was chosen, again installed with Invisiweld over 2,200m2.
"We initially specified flooring from another manufacturer," comments Gillian Cavanagh, Allan Murray Architects. "However the main contractor Pochin Construction Ltd proposed Itec Contract Floors. We were satisfied that the flooring met all of the design and technical parameters in the university's brief and the Invisiweld cold weld joint which could be used with this material proved particularly attractive."
Throughout the student laundry facilities and management suite as well as the Student Centre toilets, Pochin Construction recommended the use of the Atom collection from Itec Contract Floors. Reminiscent of a mineral surface, Atom Dust 694 is exceptionally hardwearing and benefits from R10 rated slip resistance. Featuring Hyperguard+ PUR for ease of maintenance, Atom Dust 649 provides an eminently practical surface within these areas.
"We had a generic brief for what we wanted from the floor specified," explains Helen Crocker, head of student accommodation, conference and lettings. "We opted for the recommended Axento designs as they seemed particularly hardwearing, complemented the specified furniture and would be easy for the students to keep clean. In use the flooring is performing well and proving particularly easy to easy to maintain."
For further information contact Itec Contract Floors on 00 32 5665 3211 or visit www.itecfloors.co.uk