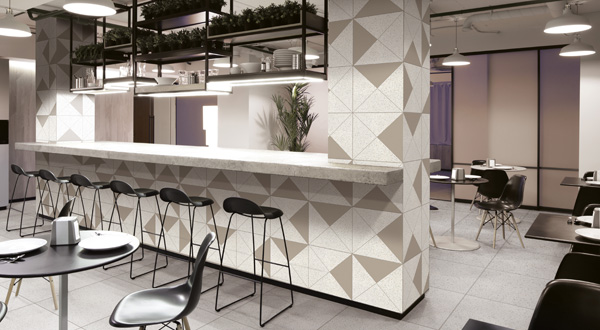 With 2016 dominated by concrete inspired ranges, 2017 is set to be an exciting year when it comes to new floor and wall tile trends. Stephen Baker, Sales and Marketing Director, at Solus Ceramics discusses the emerging tile designs set to take 2017 by storm.
The use of large format tiles has gathered momentum the past few years, but in 2017 we are set to see this trend develop even further. At Cersaie 2016 for example, one of the world's largest trade shows for tile and bathroom furnishings, manufacturers were showcasing bigger tile pieces than ever before.
Monolithic, 1200x2400mm sized tiles, which were a rarity last year, have been the showpiece of almost every new range introduced. Designers may feel hesitation when assessing the practicality of such large tiles, particularly from an installation point of view. However, with advances in production technology and by utilising the appropriately skilled fixers, these large format pieces are just as durable, reliable and easy to install as any other standard sized tile.
The use of metallic styles tiles is an exciting and innovative area of the industry, one that is set to grow in 2017. A unique and versatile medium, you can find tiles that replicate almost every different type of material, therefore it comes as no surprise that designers are choosing tiles to create metal effect floor and wall schemes. Not only are we seeing many recently introduced ranges inspired by precious metals such as gold, silver and bronze, but there is also proving to be a huge demand for more rustic interpretations of metal, such as worn and weathered iron, copper and steel coloured tiles, which will suit an aesthetic inspired by urban and industrial trends.
This year will also see an increase in shaped tiles. Available for both floors and walls, shaped tiles bring an elegant touch with limited effort. A fantastic advantage of using shaped tiles is the wide range of sizes and patterns available including herringbone, hexagonal and triangular. This allows architects and designers the freedom to use a single colour, mix and match different colours, create repeated patterns or even mix and match different finishes.
In addition, the concept of modularity will be a strong theme in 2017, we are seeing more ranges that not only provide a wide variety of shapes, but also allow different shapes to be used together to create wildly imaginative geometric patterns.
One design aesthetic that is making a comeback is Terrazzo. A complex composite stone, Terrazzo traditionally displays a wide range of marble and quartz flecks and speckles, engineered by binding together crushed stone using strong adhesives. In 2017, the look of terrazzo is being replicated in the form of porcelain. With advances in printing and production technologies, manufacturers can accurately imitate the complex quality of the composite stone in a more economic way and also incorporate recycled content.
For more information, call Solus Ceramics on 0121 753 0777, email [email protected] or visit www.solusceramics.com